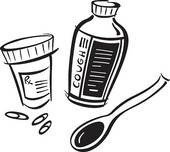 Medication Safety
The Holiday Season is a great time for a reminder concerning medication safety.  Many medicines look and taste like candy.  Children are curious and can quickly get into medication left within reach.  With relatives visiting who may be bringing medication with them it is always important to check and make sure that:
All medicine, including vitamins, are up and away and out of sight.
Remember to keep visitors' purses, bags and coats out of reach, as they may contain medicine.
Child-resistant packaging is NOT childproof. Put all medicine up and away immediately after use.
In case of an emergency keep the Poison Center Help Line number 1-800-222-1222 in your phone and posted in your house.